Hi Guys,
Not been on here for a long time and didn't know there was a 3g section now. All of my build is over on a thread on CRX-UK but I can copy it over to here if anyone is interested?
Anyhoo, here's my 1987 Civic GT which i've owned for 11 years and only actually had it on the road for 6 months of that time when I first bought it. Since then its been stripped, repainted, partly rebuilt, stripped again, welded, painted again and basically gone a bit mad with......
Its currently making 220whp @ 5.5psi due to it having an issue with the boost control on the s300 last time it was being tuned. This has been resolved now so its ready to go back on the RR to have things turned up to 12psi and see how mad it gets.
I'm still tinkering with settings and have some more parts on the way and plans for aero mods so i'll keep this thread updated from now on
Here's some recent pics and a spec list: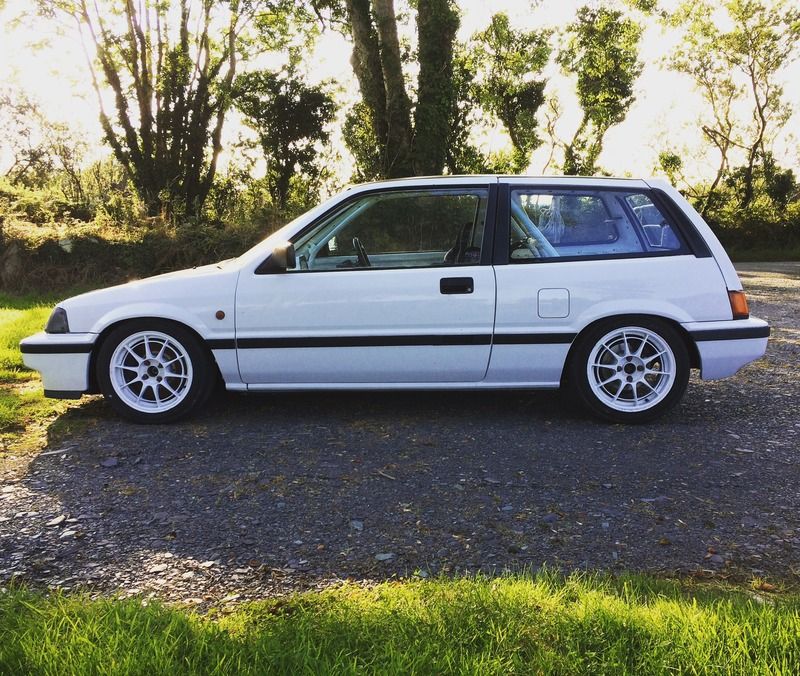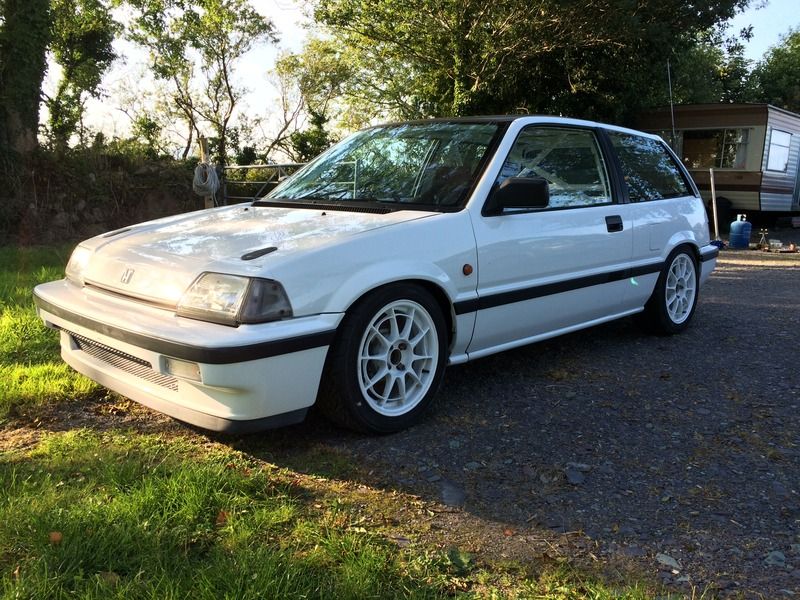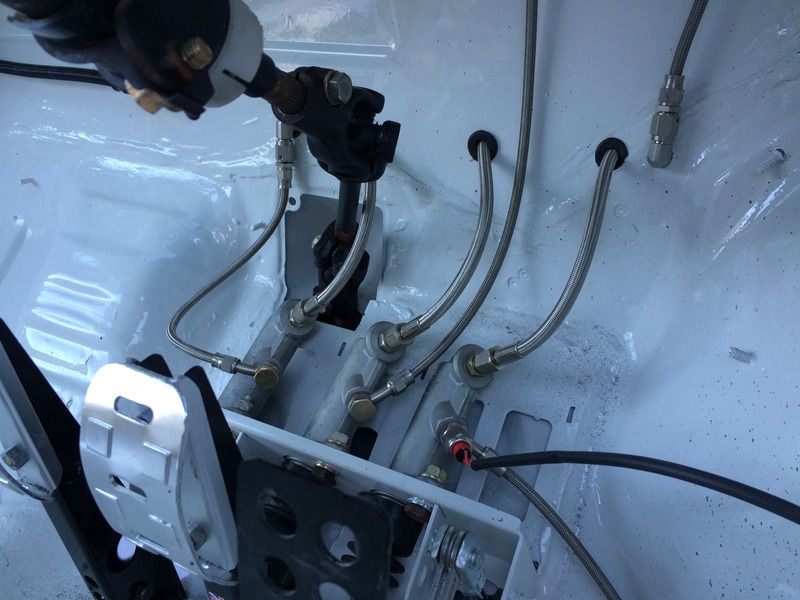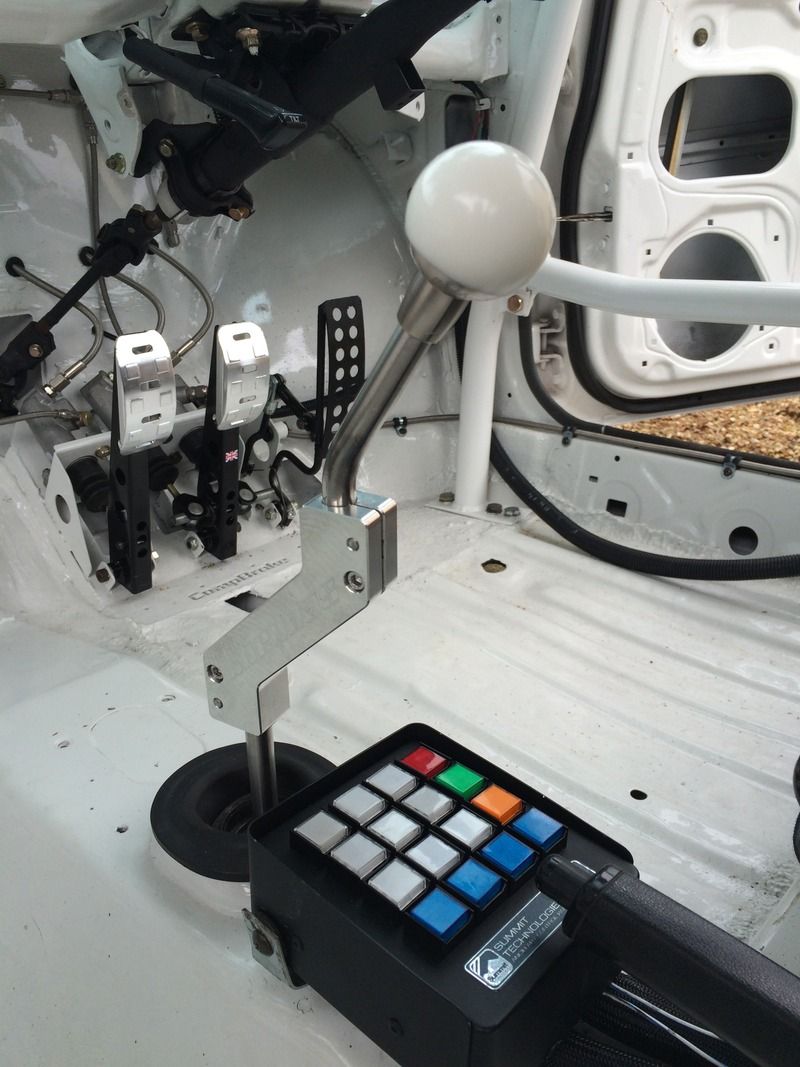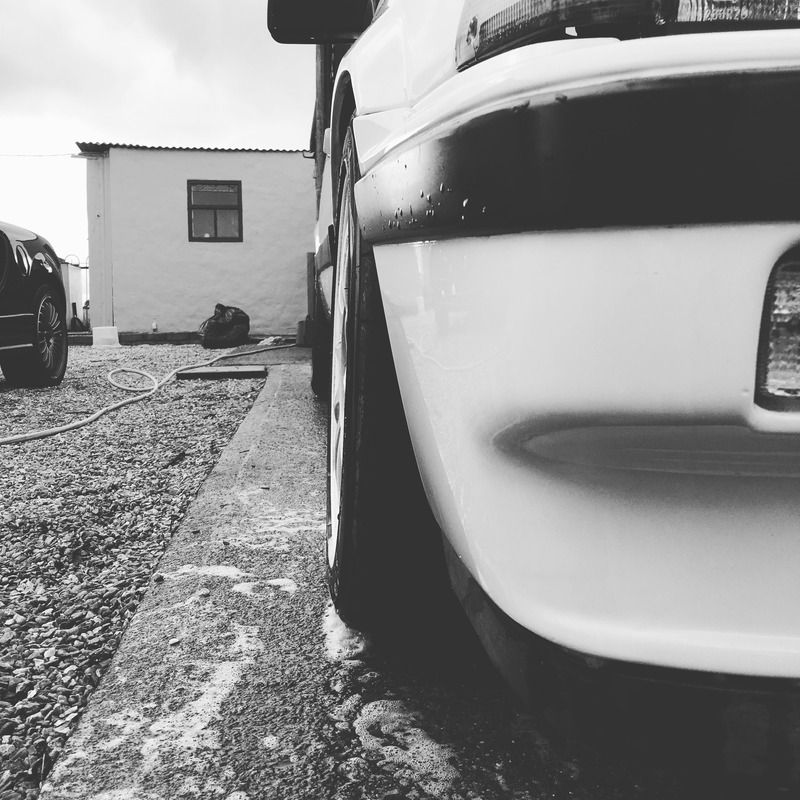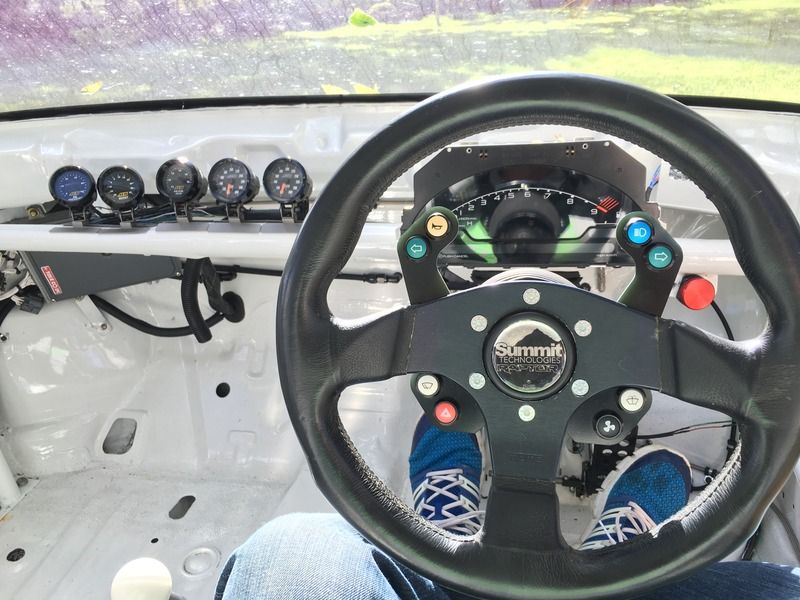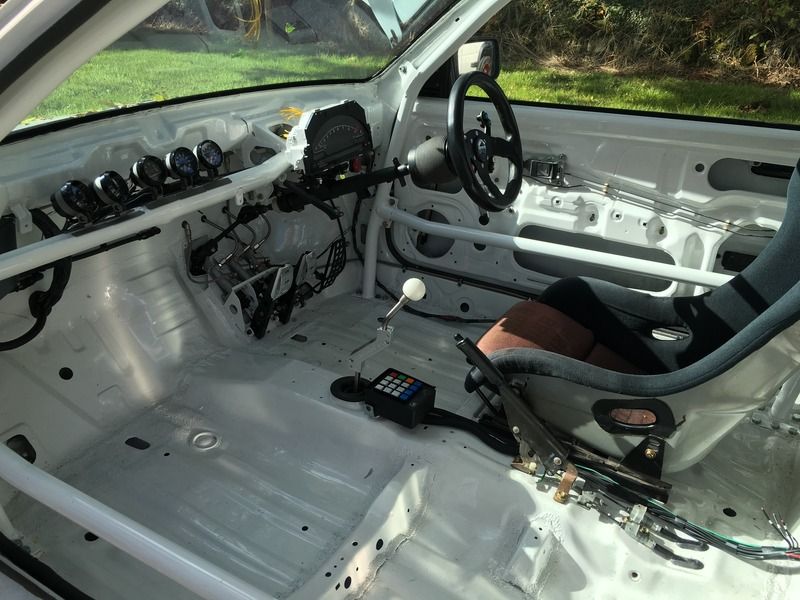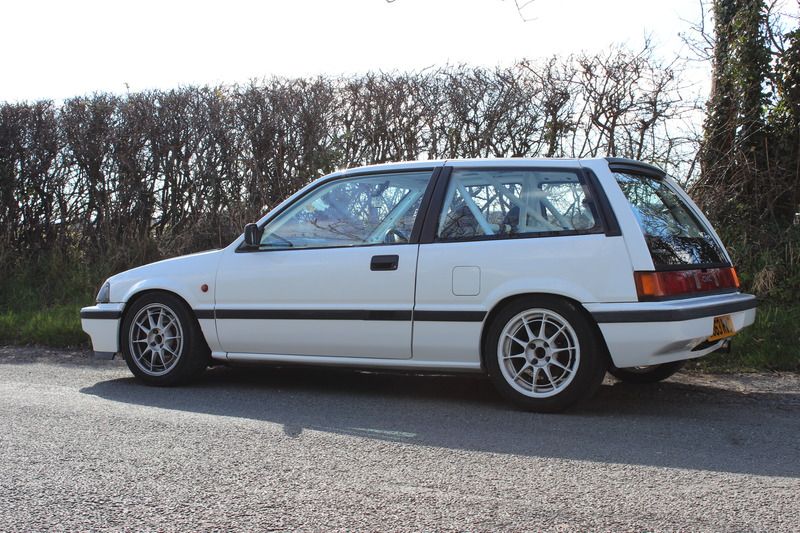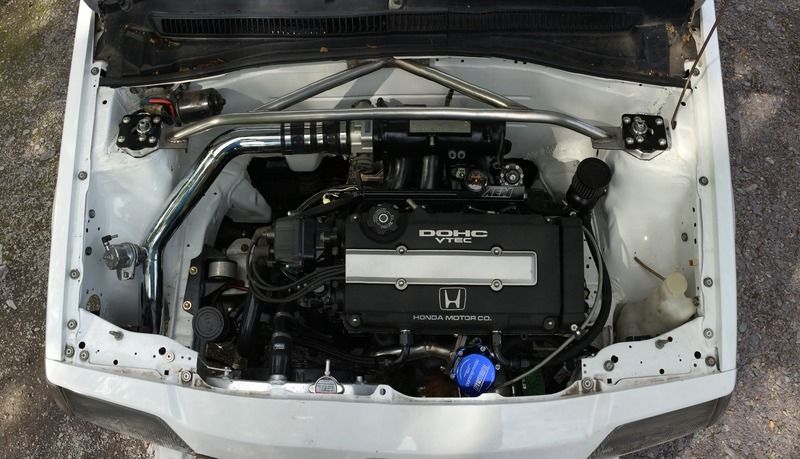 1987 Civic GT
Shell:
Shell stripped completely bare and shotblasted. All rust cut out and replaced with new metal including floors, inner arches, outer arches, sills etc.
Sunroof removed and roof skinned over with new metal.
Firewall cut out and replaced with smooth new metal.
Safety Devices 6 point bolt in rollcage fitted with optional door bars, rear X bars and harness bar. Extra strengthening plates welded in at the cage mounting points.
Shell painted inside and out in 'Candy White' including the rollcage.
Roof painted satin black including the spoiler (these will be covered in 3M carbon effect vinyl wrap).
Brand new windscreen fitted with new seals.
New rub strips all round (bought the last set available from Honda in 2006).
Front bumper cut out and black mesh fitted.
Aerocatches fitted to bonnet.
Suspension / Brakes:
All suspension components stripped down, shotblasted and painted black.
Full energy suspension bush kit fitted.
New wheel bearings all round.
ARP extended wheel studs fitted all round.
1G Integra rear beam with internal sway bar removed.
DC2 Integra rear anti roll bar externally mounted to rear beam with custom chassis mounting plates and universal adjustable drop links.
MK1 Integra rear disc brake setup with new calipers, new discs and pads.
MK1 Integra front hubs.
HiSpec Billet 4 front calipers with 290mm 2 piece discs.
OEM front anti roll bar (this will be upgraded).
New track rod ends.
Torsion tubes modified to accommodate the upgrade to coilovers.
BC BR series coilovers fitted with 3k and 4k springs at the moment. Will start playing with spring rates once the car has done a trackday and I can judge the chassis better.
Cheddas Auto billet front camber / caster plates.
Cheddas Auto billet 2 degree rear camber / toe plates
Cheddas Auto 3 point front upper strut brace
Compbrake pedal box welded in to place with 0.625 front, 0.7 rear and 0.7 clutch master cylinders. The pedal box also has a built in bias adjuster which is mounted to the right of the steering wheel.
All brake and clutch lines replaced with Teflon lined stainless braided lines and stainless AN3 fittings throughout.
Wheels and tyres:
15x7 ET35 Enkei NT03's
195-50-15 Advan Neova AD08's
15x7 ET38 Buddy Club P1's
205-50-15 front and 195-50-15 rear R888's
Drivetrain
Car converted to hydro gearbox setup.
S9B box with LSD (also have a Y80 with LSD)
OEM flywheel.
Clutchnet stage 4 clutch.
Custom driveshafts (Keith had them made) fitted with new inner and outer cv's and painted black.
Custom shift linkage.
Cheddas Auto fully adjustable billet shifter.
BuddyClub 'white ball' gearknob
Electrical system:
Home made custom car loom mated to a Rywire OBD2-OBD1 engine loom.
Car Builder Solutions 12 circuit wiring module.
Summit Technologies ACP switch panel controlling:
• Lights
• Wiper speed
• ACC
• IGN
• Start
• Fuel pump
• Gauges
• Fog light
Summit Technologies Raptor wireless steering wheel controls running:
• Flash / Pass
• Indicators
• Hazard lights
• Wipers / washer
• Horn
• Interior fan / de-mister
Hondata S300 V2 with PWM boost components installed.
AEM boost control solenoid.
AEM UEGO wideband gauge wired up to the S300
AEM digital boost gauge
AEM digital oil pressure gauge
AEM oil temp gauge
AEM water temp gauge
AP1 S2000 gauge cluster
Whiteford Davies Motorsport converter box
Odyssey PC680 battery
OBP battery mounting cage
Kill switch custom mounted in fuel filler
Fuelling:
Alimax fuel cell mounted in boot.
Bosch 044 fuel pump and Bosch high flow filter mounted inline using a Torques UK billet mount.
All fuel lines replaced with Torques black fibre Teflon lines.
AN6 fittings throughout in black including bulkhead fittings through the firewall.
AEM black billet fuel rail.
AEM black adjustable rail mounted fuel pressure regulator.
DPI 550cc injectors with OBD2 clips.
Engine:
B18C4 with 126k miles, full Honda history and one of the sweetest I've owned.
New water pump, oil pump, cam belt, alternator belt etc
Engine, gearbox and all ancillaries painted satin black
Baffled sump plates and AN10 turbo oil return fitted to sump
Skunk2 Pro series inlet manifold
Skunk2 Pro series 70mm throttle body
Omnipower 4 bar map sensor
4AN oil feed to turbo taken from the oil pressure sensor port
Turbonetics cast manifold with 38mm wastegate port
Turbonetics T3/T04b turbo
Turbosmart 38mm wastegate with 5.8psi spring
3" stainless downpipe with wastegate pipe running back into it
3" exhaust system with V band fittings and two silencers
Black intercooler and 2.5" piping
Blitz BOV
Crinkle black rocker cover with twin AN10 breather ports welded to the front going to two catch cans with K+N filters
Breather ports fitted to th back of the block also going to the catch cans
Mocal thermostatic oil pickup to Mocal oil cooler
Work billet cam end seal
Hasport engine mounts, gearbox mount modified for hydro gearbox. Race spec inserts fitted.
Toyosport EG spec radiator custom fitted with slimline radiator fan.
Samco radiator hoses in black.
Misc:
Bride drivers seat mounted on a custom seat rail
Bride / Sparco passenger seat mounted to OEM rails
Sparco 4" 4 point harnesses
Momo 300mm steering wheel
Snap off boss mounted to Momo boss to extend steering column
Steering column spaced down 4mm to improve positioning
And here's a quick vid of it pulling away to give an idea of the noise it makes...