...
Got the gearbox fitted Saturday with the help of my mate sam like normal(thanks again man) Bolted it up with a brand new drivetrain. I went for a RPC 4KG flywheel and a stage 3 action clutch to accompany it. I did this more for piece of mind than necessity, as my old set up had seen severaly years on the car and quite a few 1000 miles.
Also my driveshafts have always been a bit haggered on the car, the track days really haven't done them any favours either as they had loads of play in them when i took them off, mainly on the inner CVs. With the LSD inevitably putting more strain on the shafts i thought it'd be best to replace them. But me being me i went overboard and got some insane driveshafts 500bhp shafts, now the car is never gunna produce anywhere near 500bhp but i thought it'd be best to sort some uprated shafts with the amount of track days i plan to do next year.
After getting everything bolted up and the gearbox filled with 10w30 mineral oil for run in i went out for a test drive, which in turn became the run in period. First impressions is the diff is pretty anti social, at low speeds it clunks a fair bit and shakes the car around a little bit but once up to speed its okay. However you do have to hold on when booting it as it really does pull you in round corners, i've only done about 20miles with it atm so still need to get used to the diff. The box itself shifts like butter, its silky smooth and feels positive i'm really pleased with the outcome. Only 'negative' is the action clutch has very light pedal in comparison to my old competition clutch which albeit initially was ridiculous i came to actually quite like it, as the biting point was very prominent. The action clutch however is quite grabby at biting point but i think the pedal feel is a little wooly, time will tell. I need to put some more miles on it to break it in.
The run in for the Mfactory diff albeit comical is tiring and makes you dizzy, You have to do 20 mins of figure of 8s ate different throttle positions and then 10 mins of full lock left and another 10mins full lock right. With the quick rack, alignment and sticky rubber steering is tough so my arms were pretty achey afterwards! There is a short video on my instagram 'Ontherun91' for those who are curious.
On the sunday i swapped the gear oil out for Torco RTF, some people use friction modifier to stop the diff clunking so much but i have run without for now to see how it performs as it does change the lock up of the diff. I've used RTF as its one of the best fluids for a performance honda box, many of the pro gearbox builders swear by it which is good enough for me.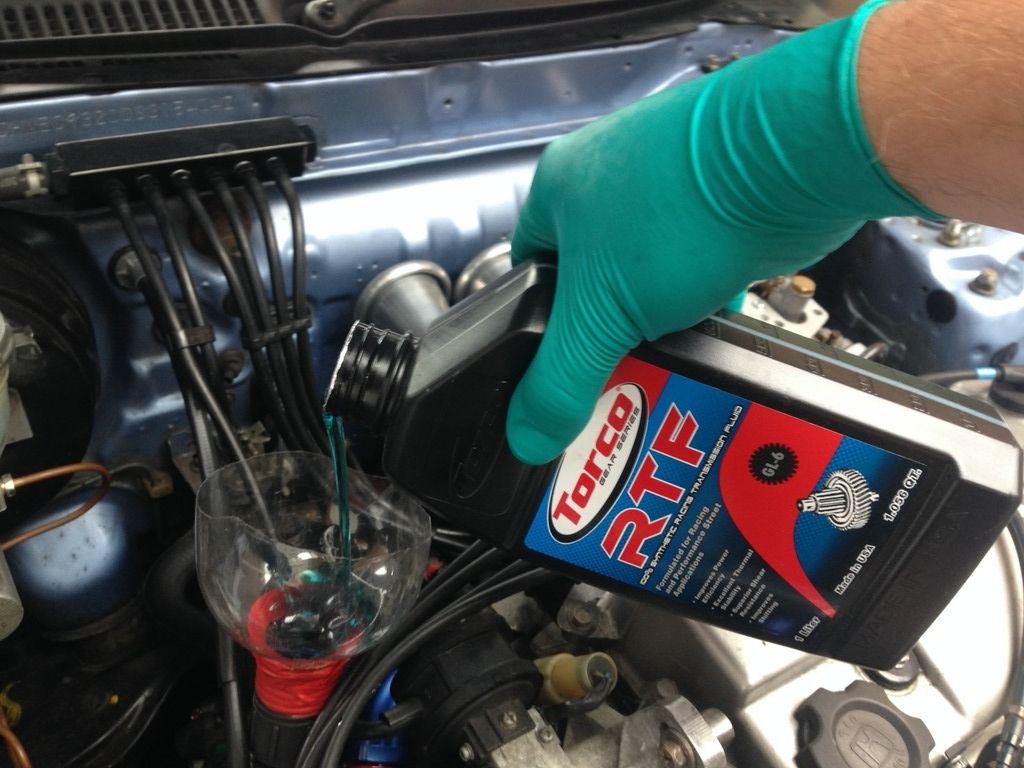 Overall really happy with how the gearbox has turned out, all i'll do now id get some road miles on it and change the fluid again before i go on my first track outing as a surprising amount of brass came out with the mineral oil.
While the gearbox was out and the car was in the air i replaced the front springs on my coilovers for 8kg/mm these are to match the stiffer springs for the rears, hoping it'll keep the car a little more upright on track and promote a little more heat into the tyres. Used WD40 and a rag to give them a little clean, surprising what so little can do.
Naturally i have my fingers in all the pies so have been hoarding a few other bits; bought an old rover dunlop cup car manifold 4-1 to give a try on the D16 the previous owner said it yielded 3-5bhp over and 'bags of torque' on his builds so we shall see. It is a little beaten and is mild steel. So i will get it blasted then get back down to solid fab to have it welded up to fit the car 100%, then a lick of paint and some heat wrap. Got it for a bit of a bargain and it looks like an interesting design so worth a shot.
Also bought some Rocket Motorsport valve springs ready for a little head work over the winter, i will probably get a stage 4 Rocket cam to accompany them but i'm yet to decide. But more on that next time.
Tis all for now,
Lee